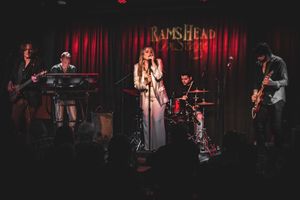 ABOUT MALLOW HILL
Baltimore-based Mallow Hill takes a genre-bending approach to its music. Drawing inspiration from artists including Marcus King, Black Pumas, Amy Winehouse, and Dan Auerbach, the group melds elements of blues, soul, and rock to create a distinctive, toe-tapping, booty-shakin', and all around groove-worthy sound.
Though officially founded in 2020, Mallow Hill's origin story began more than a decade earlier on the very street the band is named after. In his childhood home on Mallow Hill Road is where guitarist and band leader Danny Gwinn learned to play guitar. Long before the band's formation, Gwinn's parents' basement served as a meeting and jam spot for him and his friends, including bassist Chris Reynolds and keyboardist Mac Dignam. With college plans, work, and other life interruptions, the basement on Mallow Hill Road eventually became empty and quiet. The timing for a band wasn't quite right. 
It wasn't until Covid hit that things began to come together. Gwinn once again began jamming with Dignam and eventually brought in lead singer Mikayla Joseph. With the addition of drummer John Menefee and bassist Chris Reynolds in 2022, Mallow Hill landed on a lineup that finally felt complete. 
Led by front-woman Joseph's powerhouse vocals, Mallow Hill is just getting started. The band's debut album–created with producer and Grammy-nominated mixer and engineer Dex Green (Margo Price, Nicole Atkins)–takes a new approach to primary songwriters Gwinn, Joseph, and Dignam's love for classic blues and soul music. The forthcoming album perfectly encapsulates the band's genre-bending approach to its music with a collection of songs that both defines and celebrates the Mallow Hill sound.